Remarks from Everette E. Vokes, M.D.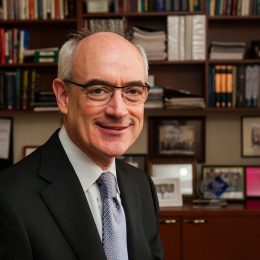 We reflect on the life of Joe Kirsner, a physician scientist and educator, and his long tenure at the University of Chicago, the Department of Medicine, and in his life see the history and origins of our values, what we believe in, who we are today and what we can be when we are at our professional best. Joe Kirsner spent most of his life at our institution. For nearly 75 years he devoted his life to medicine, teaching and patient care. In a sense "old fashioned", but with emphasis on compassion, excellence and innovation it is timeless.
Joe Kirsner had an enormous impact on the Department of Medicine. He was an invaluable mentor and educator. He defined what it meant to be a gastroenterologist and laid the foundation for the national and international recognition of our Section of Gastroenterology. He did so in a lasting way that allowed his successors, who he had mentored, to continue and expand his work. Joe Kirsner remained a national and international authority in digestive diseases until his death in July and remained important to our institution until the end. His legacy is innovation, patient-centered research and an emphasis on the patient experience, long before these became widely used concepts in modern academic medicine
I was never a personal collaborator of Joe and, for my first 25 years at this institution mainly knew him as one of the great people who had defined our department. Nevertheless, in 2009, when I became department Chair he was one of the first to request to see me, or me to see him. He was so engaging when he spoke to me about his life. I understood what it meant to be "G.I. Joe", what it meant to work under challenging circumstances in post-war Europe and began to understand his life of academic and personal dedication. It became quickly clear to me that Joe Kirsner in no way considered himself to be at the end of a career and I found myself discussing with him the possibility of giving grand rounds timed with his 100th birthday. With the help of David Rubin, a loyal supporter & mentee several generations removed, Joe delivered a wonderful and insightful one hour grand rounds lecture at the age of 100, something we are not likely to see repeated many times. After that, he continued to send me regular updates with his CV and summaries of his recent activities as he had done with previous chairs. In fact, he suggested that he give another grand rounds lecture.
As much as he loved the department, the institution and his work, there was equal love and admiration of him from faculty. This man clearly belonged to the University of Chicago. I think that working at any other place in the world would have been unimaginable to him. This was not a "workplace" but an intellectual and academic home and to some degree his personal home. I know that Joe Kirsner would want our institution to remain that kind of place that values medicine in its humanity, its care for others (patients and colleagues) with high individual and collective aspirations.
There is the notion that we should have more "Joe Kirsners". We couldn't have them simultaneously but we had them in sequence since Joe out-lived by far, the average tenure of faculty at our institution – so we had at least two of them over time. But Joe left a wonderful legacy, a great section and a culture that accepts the challenge to greatness; that legacy makes me confident that we have the seeds for many more future Joe Kirsners.
When Joe died in July, I was deeply moved to see the depth of loss felt by many of his immediate colleagues, as well as the continued inspiration that came from his life as a role model. The test for all of us is to continue the work of this giant in medicine. His legacy is our challenge and obligation.