Overview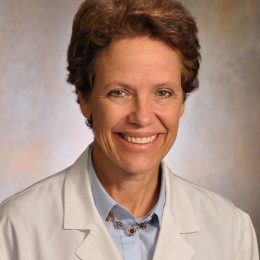 Section Chief's Welcome
Welcome to The University of Chicago Section of Nephrology website. Our Section is comprised of sixteen faculty members, two Ph.D. scientists, and eight postdoctoral fellows in training. U.S News and World Report has consistently recognized as one of the top nephrology programs in the country. Our clinical practice is exceptional, varied and includes activities in hereditary kidney disorders, nephrolithiasis, end-stage renal disease (ESRD), renal transplantation, acute kidney injury, glomerular disorders, and health outcomes research.
Our faculty oversee four hemodialysis centers in the Hyde Park vicinity, as well as an active home dialysis program. Our renal transplant program is robust, and provides a variety of options for renal transplantation. The Section, particularly in the areas of hereditary renal disorders, kidney stones and acute kidney injury, and ESRD carries out a range of translational and clinical research. Like our clinical activities, our basic science research is also diverse, and includes investigations into acute kidney injury, oxalate transport, renal tubular transporters, and gene expression. In the past year, our research faculty have received nearly $1.0 million in  research grants. We have trained an elite group of academic and private nephrologists, and presently offer various training options for fellows interested in both community and academic careers.  The pages herein will provide greater detail on each of these topics.
About the Section
The Section of Nephrology at The University of Chicago is comprised of 16 faculty members, two Ph.D. scientists, eight postdoctoral fellows as well as a staff of over 20 research, administrative and clinical personnel that are devoted to a mission of excellence in research, patient care and education. The nephrology program is ranked by US News and World Report as one of the outstanding renal programs in the United States.
Research Accomplishments
The research opportunities in the Section of Nephrology are rich, and include avenues of investigation into both clinical and basic science aspects of Nephrology. Clinical research programs include NIH-funded research in autosomal dominant polycystic kidney disease (ADPKD), kidney stones, acute kidney injury, hypertension, vitamin D metabolism, metabolic bone disease, renal imaging and vascular physiology, as well as industry-sponsored work in end stage renal disease (ESRD), anemia management in chronic kidney disease and ESRD and transplantation. Basic science research is in the areas of acute kidney injury, oxalate epithelial transport, renal epithelial cell biology, proteomics in nephrolithiasis and urinary exosomes. Our research activities are mainly supported by the National Institutes of Health and includes non-federal granting agencies such as the American Heart Association and the PKD Foundation.
Education and Training
The multi-faceted academic program offered by the Section of Nephrology includes education for medical students, interns, residents, and fellows. Continuing medical education for physicians is also offered. Education within the Section of Nephrology consists of instruction at all levels of clinical care including ambulatory clinics, inpatient services in consult, ESRD, ICU and general medicine, outpatient dialysis units, and laboratories with active student participation.
The Nephrology Fellowship Training Program is a two year training program and is directed by Dr. Anna Zisman. Each year four clinical fellows are accepted into the training program and are exposed to a wide spectrum of clinical nephrology and have a variety of research options to pursue.
Patient Care
The Section of Nephrology has a large ESRD program, providing care to over 600 patients including patients being treated in home dialysis and nocturnal in center dialysis program. Four of the section's faculty are outpatient dialysis unit directors at large hemodialysis units in the Hyde Park vicinity – Drs. Mary Hammes, Bharathi Reddy, Rita McGill and Nicole Stankus.  In addition, Dr. Orly Kohn runs a program in chronic ambulatory peritoneal and home hemodialysis.
The University of Chicago has a successful renal transplantation program, performing approximately 75 living-related and cadaveric kidney and kidney-pancreas transplants annually. The Section of Nephrology maintains an inpatient transplant service and is responsible for all outpatient care for patients in the first year after renal transplantation and often longer. The Section is one of very few programs in the country that have an AST-certified fellowship training program in Transplant Nephrology. The transplant nephrologists are Drs. Michelle Josephson (Program Director), Pratik Shah and Patrick Cunningham.
The University of Chicago sports a large comprehensive multidisciplinary referral ambulatory chronic kidney disease clinic with support and care provided by dieticians, social workers, geneticists, and imaging specialists. This multidisciplinary clinic provides complete care to patients with chronic kidney disease. This one stop shop allows patients more partnering and independence in managing their chronic kidney disease.
The University of Chicago Medicine provides a high level of inpatient nephrologic care in the medical wards and in the intensive care units. As such, we see a considerable number of patients with acute kidney injury on all of our non-ESRD services. The Section has both NIH and industry-sponsored trials in the pharmacological management of acute kidney injury. With NIH funding, Dr. Jay Koyner evaluates real time patient data that preemptively predicts the development of acute kidney injury on the medical wards.
The University of Chicago is now the home of an ADPKD center of excellence where more than 700 affected families and 2,100 affected individuals are seen. Through the efforts of Drs. Chapman, Reddy and Chen the PKD Center at the University has a multidisciplinary approach with programs in which both clinical care and research being carried out in polycystic kidney disease, polycystic liver disease, and basic research in the metabolomic reprogramming of cystic epithelia.
The University of Chicago has a world-renowned program in the research and clinical management of kidney stones. This program is headed by Dr. Elaine Worcester, and includes Drs. Fred Coe, Anna Zisman, Ben Ko and Kristen Bergsland. Over 4,000 patients with kidney stones are followed in this program, which allows a wealth of research opportunities, as well as state-of-the-art medical and surgical management of any type of kidney stone.