Overview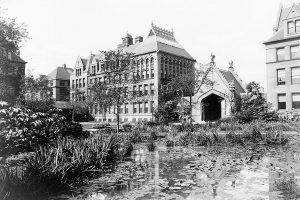 About the Department
Since its establishment in 1927, the Department of Medicine has been the model of a successful, clinically active academic program in general medicine and the subspecialties. Our clinicians, researchers and educators are making major contributions on how we solve complex medical problems by integrating novel scientific findings and how we train our young physicians. Through our advanced investigations, team work and data driven technology, our quest for new medical knowledge has led to innovative basic, translational and clinical research that has advanced therapies and redefined how we practice medicine. We are dedicated to educating the next generation of physicians and scientists to carry on our legacy of discovery.
The Department of Medicine is staffed by over 300 full-time faculty members and organized into 15 subspecialty sections with each directed by nationally recognized leaders in their fields:
Cardiology
Biomedical Data Science
Dermatology
Emergency Medicine
Endocrinology, Diabetes & Metabolism
Gastroenterology, Hepatology & Nutrition
General Internal Medicine
Genetic Medicine
Geriatrics & Palliative Medicine
Hematology/Oncology
Hospital Medicine
Infectious Diseases & Global Health
Nephrology
Pulmonary/Critical Care
Rheumatology
Many of our faculty are elected members of prestigious organizations such as the National Academy of Medicine (7), the Association of American Physicians (22) and the American Society for Clinical Investigation (21). Institutionally, 34 Medicine faculty have earned named professorships.
Research Accomplishments
The Department of Medicine has a long tradition of conducting original and rigorous biomedical and clinical research of fundamental significance and the legacy of previous and current high profile investigators is engrained deeply into the Department's culture. Within the Biological Sciences Division and the entire University, the Department is the largest department both in terms of the number of faculty and research funding (over $172M), with nearly 3/4 derived from the National Institutes of Health. Nearly one third of our faculty devote at least half their time performing research, which is characteristically original, rigorous, highly collaborative, and impactful. In addition, many of our dedicated clinicians produce practice-changing clinical research published in high impact journals. Recognition of these research programs is indicated by our consistent ranking among the top 15 NIH-funded departments of medicine. In FY21 the Department's research portfolio totaled over $125M in federal awards, $25M in clinical trial earnings/industry funded research and over $22M in other non-federal awards.
The Department's investigative programs are diverse and span the translational research spectrum. We are home to NIH funded program or center grants in asthma, diabetes, digestive diseases, healthcare disparities, hypoxia, sleep, transplantation, computational medicine, systems biology, and experimental therapeutics, as well as ten T32 and three K12 training programs. Our faculty also lead several multidisciplinary, intersectional or interdepartmental programs, including the: Comprehensive Cancer Center, Institute for Translational Medicine, Institute for Integrative Physiology, Center for Personalized Therapeutics, Sleep Research Center, Heart & Vascular Center, Center for Data Intensive Science , Kovler Diabetes Center, Center for Health and the Social Sciences, Digestive Disease Research Core Center, MacLean Center for Clinical Ethics , Bucksbaum Center for Clinical Excellence, Chronic Disease Center, Asian Health Center and the Chicago Center for HIV Elimination. Within the clinical research realm, the Department has a robust and highly productive therapeutic clinical research program and broad expertise in drug development especially targeted therapies and epigenetics. In FY21, the Department conducted more than 1,700 clinical trials. The Department's 15 subspecialty sections currently occupy approximately 130,000 sq. ft. of research space among 11 different buildings on campus.
Recognition for Patient Care
The Department of Medicine is comprised of eminent clinical innovators who continue to be recognized for their high level of expertise. The Department's clinical programs demonstrate excellence across a broad spectrum of subspecialty patient care services for the treatment of our highly complex and diverse patient population. Multiple sections in the Department have consistently ranked among the best specialties nationally by U.S. News & World Report. In 2021, this honor included the cancer, gastroenterology, diabetes/endocrinology and pulmonary programs with our Geriatrics and Cardiology programs ranked as high performing. Many of our clinicians are consistently ranked as "America's Top Doctors" by Castle Connolly Medical. Institutionally, the Department is recognized for its impactful patient care and volumes across all domains and is a leading contributor to the overall success of the University of Chicago Medicine, with 16,300 inpatient admissions, nearly 291,000 patient visits in FY21.
Education and Training
The Department of Medicine is deeply committed to the education and training of skilled physician scientists and leaders bound for careers in academic medicine in an environment supporting cultural diversity and patient safety. The Department offers residency training programs in internal medicine, medicine-pediatrics, emergency medicine and dermatology and ACGME fellowship training in cardiology, dermatopathology, endocrinology/diabetes/metabolism, gastroenterology/hepatology/nutrition, geriatrics/palliative medicine, hematology/oncology, infectious diseases/global health, nephrology, pulmonary/ critical care, sleep medicine and rheumatology.
The Department of Medicine provides training to approximately 180 residents and 130 fellows each year, successfully preparing them for careers in clinical medicine, teaching, and biomedical research. Within the Internal Medicine Residency program, many of the graduates pursue sub-specialty training. The 2020 fellowship match successfully matched 40  graduating residents into many of the most competitive and premier fellowship programs in the country. Nearly 50% of our graduating fellows are recruited into academic faculty positions; 24% elect advanced training (the majority in cardiology) and 30% enter private practice. The Department is the home to several nationally recognized medical research training programs as well as the medical scientist training program. The Department also holds three NIH K12 grants in oncology, HIV-related cardiovascular and sleep disorders and outcomes research.
Diversity of Faculty and House Staff
Diversity in the Department of Medicine is a major priority as we seek to build a workforce that reflects the racial and ethnic makeup of the patients that we serve. The Department is highly active in promoting diversity, community based research and exploring ways to eliminate health care disparities. With outstanding leadership from our Diversity Committee, the Department of Medicine has enjoyed success in the recruitment of a diverse house staff while increasing the number of minority faculty in the Department. In addition, the Department has created a visiting clerkship program, and has initiated several important programs for underrepresented minority college students in the Chicagoland area.