Research Programs
Overview
Like the faculty that comprises the Section and the clinical programs, the research programs in the Section of Nephrology are diverse. We have a long-standing and world-renowned program in kidney stone disease. A variety of clinical research studies are ongoing in our dialysis and transplant patients. Acute renal failure is a focus of both of clinical and basic science research studies. The biology of epithelial cells represents an important area for several of our research faculty.
Basic Research
Immunopathology
Dr. Patrick Cunningham investigates the pathogenesis of endotoxin-induced acute renal failure. His work has identified tumor necrosis factor-induced apoptosis and neutrophil infiltration as being pathogenic in a mouse model of this disease. Ongoing research seeks to further dissect the underlying pathogenic mechanisms in this important disease.
Epithelial cell biology
Dr. Hassan's research focuses on elucidating the molecular mechanisms regulating SLC26A6, a key transporter in oxalate homeostasis, and how this regulation might pertain to the risk of hyperoxaluria and calcium oxalate kidney stone disease. Dr. Hassan has found that cholinergic signaling inhibits SLC26A6-mediated oxalate transport by human intestinal T84 cells through signaling pathways including the M3 muscarinic receptor, phospholipase C, PKC-δ and c-Src kinase. Ongoing research seeks to test the hypothesis that SLC26A6 activity is under cholinergic regulation in the intestine, and that changes in cholinergic (vagal) tone may thereby affect oxalate homeostasis, urinary oxalate excretion, and stone risk. His lab is also studying the roles of purinergic and serotonergic signaling, acting through PKC-δ, in the regulation of intestinal oxalate transport and how these signaling pathways might pertain to the risk of hyperoxaluria and calcium oxalate kidney stone disease. Using a diversity of cultured mammalian cells and whole animals, ongoing research utilizes a variety of techniques, including immunoblotting, immunoprecipitaion, cloning, real time PCR, site-directed mutagenesis, confocal microscopy, genomic approaches, and flux studies in cells and native intestinal tissues mounted in Ussing chambers (including measurements of paracellular permeability).
Dr. Ko studies the molecular mechanisms of hypertension. His work focuses on the sodium chloride cotransporter (NCC) in the distal convoluted tubule of the kidney, exploring the cellular events that lead to changes in NCC function. Current projects include examining the effects of hormones on NCC function as well as the role of ubiquitin in NCC regulation. This work is conducted primarily in a cell model system using techniques such as immunoblotting, immunohistochemistry, PCR, radiotracer uptake, and mass spectroscopy.
Autosomal Dominant Polycystic Kidney Disease
Dr. Chapman's research focuses on mechanisms of cyst formation in autosomal dominant polycystic kidney disease and determinants of the genetic contributions to antihypertensive drug responses in essential hypertension. Her early investigations also centered on the renal and systemic hemodynamic changes that occur during normal and pre-eclamptic pregnancies. With continuous NIH funding for the past 15 years, Dr. Chapman has established that through magnetic resonance imaging, that significant changes in renal and liver cyst burden can be detected over a short period of time in autosomal dominant polycystic kidney disease so that novel therapies can be tested. These advances have led to the testing of promising new agents in ADPKD including Vasopressin V2 receptor antagonists as well as formally testing inhibition of the renin-angiotensin-aldosterone system in ADPKD patients with hypertension. In addition, Dr. Chapman has established novel genetic contributors to antihypertensive responses to thiazide diuretics and B-blocker therapy in patients with uncomplicated essential hypertension.
Clinical Research
Our active clinical research program encompasses a range of important areas in the field of Nephrology. Our faculty engage in research in several broad areas, including:
Critical Care Nephrology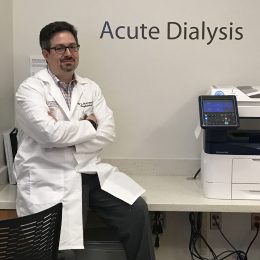 Dr. Jay Koyner has a clinical research focus in Critical Care Nephrology. His research group's primary focus is on the diagnosis, care and treatment patient's of acute kidney injury (AKI). AKI is an all too common occurrence in hospitalized patients, especially in the setting of critical illness / intensive care unit setting where despite the tremendous advances in understanding renal disease at the physiologic and molecular level it still carries an alarmingly high morbidity and mortality. As such, one of the group's main projects is to better characterize the definition of AKI through the evaluation and investigation of a variety of novel plasma and urinary biomarkers of kidney injury in a variety of clinical settings. These studies will evaluate the biomarkers ability to provide not only an earlier diagnosis of AKI (compared to the current gold standard, serum creatinine) but also prognosticate the severity of the disease, as well as better define who is at greatest risk for long-term adverse (renal and non-renal) events. Similarly, Dr Koyner is involved in projects that explore potential prophylactic and therapeutic treatments for AKI in a variety of setting of critical illness (performed in collaboration with investigators from Pulmonary and Critical Care Medicine and Anesthesia Critical Care). As director of UCMC's Inpatient Renal Replacement Therapy (RRT) Unit, he is performing studies investigating the optimal delivery of continuous RRT (CRRT) in the setting of the most severe forms of AKI. These studies include the examination of drug utilization and dosing in the setting of CRRT.
End Stage Kidney Disease
Renal Bone Disease: The Nephrology faculty is participating in trials of new therapies to treat bone disease in patients on long-term dialysis. These include a calcimimetic agent, in collaboration with the Section of Endocrinology, Diabetes and Metabolism, as well as studies of the use of two vitamin D analogues, carried out by Dr. Nicole Stankus. This study will look at both efficacy in treatment of hyperparathyroidism, as well as impact on survival.
Improvement of Dialysis Methods: Adequate delivery of hemodialysis treatments requires dependable and infection-free access to the circulation, and prevention of clotting of the dialysis circuit. Recent protocols conducted in our dialysis units have studied methods to prevent thrombosis and infection of the dialysis access or circuit. Dr. Mary Hammes is studying the pathogenesis of fistula failure in ESRD. Dr. Nicole Stankus is conducting studies of a new agent that may help to prevent growth of scar tissue and clotting in dialysis grafts. This research may prolong the useful life of the access, which is critical to delivery of adequate dialysis.
Transplantation
Drs. Patrick Cunningham and Michelle Josephson study ways to prevent medical complications of kidney transplantation and improve the outcome of the transplant recipient. These approaches include participation in the NIH sponsored multi-center trial of solid organ transplantation in HIV+ patients, evaluating the efficacy of erythropoetin therapy in kidney transplant recipients, doing pioneering work on the potential role of leflunomide in treating and controlling infection with the polyoma virus BK.
As The University of Chicago is one of the few centers in the country with expertise in multi-organ transplantation, they are investigating outcomes of these highly complex transplants. They are also studying the impact of recurrent and de novo glomerular diseases on the outcomes of transplanted kidneys and participating in studies aimed to identify safe and effective immunosuppression regimens. These regimens include steroid and calcineurin inhibitor reduction, avoidance and/or elimination protocols as well as study of leflunomide's potential to prevent chronic rejection. They are collaborating with the kidney stone group to set up a multi-center study that investigates the controversial area of whether kidney stone formers can safely donate kidneys.
Kidney Stones
Dr. Fredric Coe directs the renowned Kidney Stone Clinic and in collaboration with Dr. Elaine Worcester and Dr. Anna Zisman conduct studies on the causes of kidney stones and prevention of recurrence.