Overview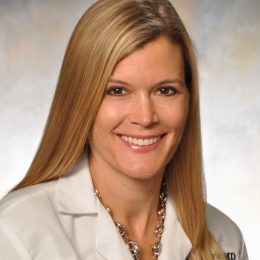 Section Chief's Welcome
Our population is aging in an unprecedented fashion; the proportion of people over age 65 will double in the coming decades and people over age 85 are the fastest growing segment of the U.S. population. This demographic imperative is challenging our health care system and society on many fronts, making geriatrics one of the most important disciplines for the 21st century. The Section of Geriatrics and Palliative Medicine welcomes you to learn about how we are helping to address the clinical, training, and research challenges of our aging population.
Geriatrics distinguishes itself from most other medical disciplines in a number of ways including: expertise in the "geriatric syndromes" such as dementia, depression and frailty; a focus on function, psychosocial issues, and quality of life; and involvement in medical care across the continuum of care settings. Perhaps most important, however, is the multi-disciplinary approach that we bring to bear on patient care, teaching, and research. In the pursuit of excellence in patient care, teaching and research we regularly collaborate with experts from a range of medical subspecialties.
About the Section
The geriatrics program at The University of Chicago has been recognized for its excellence in patient care, teaching, and research for many years. U.S. News and World Report has consistently rated our geriatrics program one of the top programs in the state of Illinois and in the nation. Since its inception in 2000, the Section of Geriatrics and Palliative Medicine has grown from seven full-time faculty members to twelve full time faculty members, making it one of the larger programs in the country. Together with approximately six geriatrics fellows per year and more than thirty research, clinical, and administrative staff, we are devoted to improving the care of the nation's older adults through our research, training, and patient care programs described below.
Research Accomplishments
The research program of the Section of Geriatrics and Palliative Medicine has been supported by essentially all of the major institutes and foundations funding aging-related research in the United States, including the National Institute on Aging (NIA), the Health Resources and Services Administration (HRSA), the John A. Hartford Foundation and Coleman Foundation.
We are one of only 44 Geriatrics Workforce Enhancement Program awardees (HRSA) across the U.S.
We are one of only 28 John A Hartford Foundation Centers of Excellence in Geriatics in the country
For almost twenty years, The University of Chicago geriatrics has been the home for one of the nation's leading research programs on ethics, end-of-life care, decision-making, and public policy issues in geriatrics
Recent recruitments and collaborations have launched important research efforts in memory disorders, frailty, geriatric oncology, hospital care of older adults, incontinence, and care of the older adult with diabetes mellitus.
Our research is enriched by a multi-disciplinary approach. We actively collaborate with research colleagues in general internal medicine, oncology, neurology, psychiatry, gynecology, and hospital medicine. Our research programs involve experts in ethics, sociology, psychology, education, social work, nursing, surgery, public policy, and gerontology.
Education and Training
The faculty members of the Section of Geriatrics and Palliative Medicine are very proud of the extensive and superb teaching they do for medical students, residents, and fellows. Whether our trainees eventually pursue careers in geriatrics, other disciplines within internal medicine, or specialties outside of medicine, we aim to prepare all of them to provide excellent care to older patients and to have more of them conduct research that focuses on issues important to an aging population. We are increasing the exposure of medical students at The University of Chicago to geriatrics, focusing in particular on the core course relating to the development of clinical skills and the inpatient medicine clerkship. All residents in internal medicine complete a one-month block rotation in geriatric medicine that takes place in the outpatient and long term care settings. Residents in Neurology and Psychiatry are exposed to geriatrics through rotations in the Memory Center. Interprofessional trainees, including physician assistant and advanced practice nursing students learn from our faculty in the inpatient, outpatient and long term care settings. The geriatrics faculty attend on one of the inpatient general medicine services which allows third-year students and residents to be exposed to more geriatrics teaching in the hospital. In addition to being dedicated teachers, many of our faculty members serve important leadership roles within the American Geriatrics Society and other professional organizations.
The Section of Geriatrics and Palliative Medicine also is home to a geriatrics fellowship training program and an innovative combined training program in geriatrics and oncology, funded in part by the American Society of Clinical Oncology. Our fellowship programs attract some of the best residents from within our own medicine residency and other highly regarded residency programs across the country. Graduates of our fellowship program are achieving success in careers in academic medicine (as educators and researchers), clinical practice, medical journalism, and health care management. We are also home to an innovative Hospice and Pallative Medicine training program, one of the best programs in the Midwest.
Patient Care
With over 11,000 patient visits per year, the Section of Geriatrics and Palliative Medicine provides outstanding multi-disciplinary team care across the continuum of care settings including:
Comprehensive primary care of the older person
Consultative geriatric assessment
Geriatric specialty clinics
Sub-acute and long-term care at facilities nearby our two off-site clinics
Inpatient care at the U of C Hospitals, both on the general medicine ward and on any of the medical, surgical, or psychiatric services at the request of the treating physician, patient, or family.
Specialty clinics in Geriatrics include the Center for Comprehensive Care and Research on Memory Disorders (The Memory Center), the Specialized Oncology Care and Research in the Elderly (SOCARE) Clinic, the Geriatric Arthritis Clinic, Successful Aging and Frailty Evaluation (SAFE) comprehensive assessment clinic. Full-time advance practice nurses and social workers are part of the on-site teams at both clinics, ensuring a comprehensive and holistic approach to the care of patients and their families. Experts in psychiatry, neurology, ophthalmology, rheumatology, audiology and nutrition practice alongside the geriatrics group. Students, residents, and fellows learn from all of these health care professionals and learn how to provide effective medical care to older patients in the context of being a team member. Our approach allows us to provide state of the art care to the most complex and frail patients, including patients in their 80s, 90s, or even over age 100.