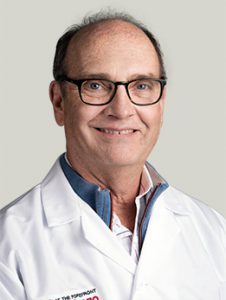 Edward Garrity,Jr.,MD  has been named as the 2019 recipient of the Department of Medicine Distinguished Service Award. Dr. Garrity,Professor of Medicine in the Section of Pulmonary/Critical Care, is an accomplished academician, clinician, and educator who joined the faculty of the Department of Medicine in December 2005 to lead the Lung Transplant Program.  For the past 14 years, he has served  the Department and Medical Center in several leadership roles including: Vice Chair for Clinical Operations (2005-2010), Associate Vice Chair for EMR, UHI and Transplantation (2010-2017) and Associate Director of the Transplant Center (2008-2016), Medical Director for Transplant and Medical Specialties (2012 – present), and is recognized by his colleagues within and outside the Department  for his compassionate patient care, his expertise in transplant pulmonology and surgery and the complex management of patients. He is an exceptional team leader, mentor and an outstanding representative for transplantation at UCM.
A pioneer in lung transplantation, Dr. Garrity is considered to be among the early adopters of lung transplantation as therapy for chronic lung diseases and helped start one of the first successful lung transplant programs in the Midwest. An incredibly dedicated physician, Dr. Garrity was deeply involved in the development of the current system for allocation of donor lungs for transplantation, and helped to reduce mortality of those awaiting the life-giving organs.
Dr. Garrity also possesses a very strong track record of exceptional teaching at all levels having received recognition for his outstanding teaching skills. In 2017 he was named as a Senior Faculty Scholar in the Bucksbaum Institute and he continues to devote energy to the Pritzker School of Medicine Admissions Committee. A respected researcher, Dr. Garrity has published more than 120 articles and book chapters  on pulmonary-related topics, including review articles on lung transplantation that have helped guide treatment throughout the country.On the national level, Dr. Garrity is an accomplished policy leader. He has been extremely involved in coordinating national efforts and policy with regard to lung transplantation as a local and national participant in the United Network for Organ Sharing (UNOS) where he has chaired or participated on multiple advisory committees.
Dr. Everett Vokes, Chair of the Department of Medicine, presented Dr. Garrity with this award at the annual Department of Medicine award ceremony on June 25,2019.