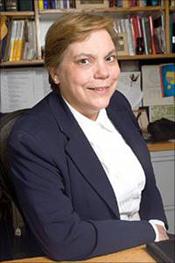 In recognition of her outstanding contributions to the tripartite missions of the Department of Medicine, Dorothy "Dottie" Hanck, PhD , Professor of Medicine (Cardiology) Vice Chair for Appointments and Promotions has been named as a  2017 recipient of the Department of Medicine's Distinguished Service Award. Dr. Hanck was recognized for her contributions at the Department's Annual Awards Ceremony on June 13, 2017.
As an  academic leader, Dr. Hanck has been serving in the  important role of Vice Chair for Appointments and Promotions for the Department of Medicine  since 2009. In this role, Dottie oversees  all aspects of the appointment and promotion process for nearly 300 Departmental faculty.
As a teacher, Dr. Hanck is one of the University of Chicago's most visible and respected educators and is past recipient of the prestigious Llewellyn John and Harriet Manchester Quantrell Award for Excellence in Undergraduate Teaching. She is deeply committed to education at all levels and has served in many significant leadership roles in science education at the University of Chicago. She has lectured extensively at the graduate student level, and has been a highly regarded teacher in the medical school and in the cardiology fellowship program.  Dr. Hanck has mentored a large number of students during her career, many of whom have gone on to further graduate work in science or to academic careers.
Dr. Hanck is also an accomplished scientist.  Prior to closing her research laboratory in 2013, Dottie was considered as one of the leading cellular and molecular cardiac electrophysiologists in the world.  She performed elegant, seminal work that produced key insights into the basic kinetics and function of the sodium channel and developed and utilized cutting edge tools in molecular biology and electrophysiology to move the field forward.  Her discoveries have had tremendous importance and relevance to cardiac pharmacology and ultimately to the design of novel, targeted therapeutic agents.
Dr. Hanck is the 13th faculty member to receive the DOM Distinguished Service Award and joins a very distinguished group of recipients: Joseph B Kirsner, MD, PhD (2006), Louis Cohen, MD (2007), Janet Rowley, MD (2008), Morton Arnsdorf, MD (2009) , Angelo Scanu, MD (2010), Keyoumars Soltani, MD (2011), Jesse Hall, MD (2013), Mark Siegler, MD and Roy E. Weiss, MD, PhD (2014), Samuel Refetoff, MD (2015),   Eve Van Cauter, PhD (2016) and Robert Lang, MD(2017).