Overview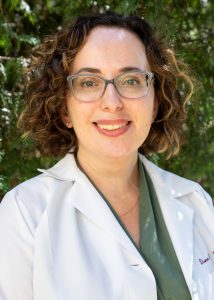 Section Chief's Welcome
The Section of Dermatology at The University of Chicago has a long and distinguished history. It is my pleasure and pride to direct it, building upon the sturdy foundation already in place and developing new areas of medical excellence. Our group comprises ten full-time dermatologists, three part-time dermatologists, and one full-time research faculty with expertise in dermatopathology, dermatologic surgery, including Mohs surgery, lymphoma, pediatric dermatology, pigmented lesions and melanoma, wound care and general dermatology. In addition, the Section has long-established training programs in dermatology (10 residents) and dermatopathology (2 fellows), where we take great pride in producing the future clinicians, researchers and educators in the field. We invite you to explore our website and encourage you to contact any of our faculty to learn more about our Section's services.
About the Section
Dermatology has a proud heritage at The University of Chicago, dating back to the 1930s, making it one of the oldest sections in the Department of Medicine. Among its distinguished chiefs are Samuel Becker, who was one of the pioneers of American dermatology, Stephen Rothman, MD, who wrote the first modern textbook on the basic science of the skin and Allan Lorincz, MD, who has over 50 years of service in the Chicago Dermatological Society.
Research Accomplishments
Dermatology research at the University of Chicago encompasses a wide range of topics, including melanocyte biology, effective melanoma treatment development through the targeting of specific cellular pathways, and cell responses to radiation and chemicals from internal or external sources that may cause cancer.
Education and Training
Dermatology faculty play a major role in medical education, directed at students, residents, fellows and other faculty members. The Section provides a critical experience for medical students in ambulatory practice across a broad spectrum of patients, from pediatric to adult dermatology. Residents in other medical specialties routinely rotate through dermatology. In addition, the dermatology residency program is fully accredited for ten residency slots and has graduated hundreds of clinicians and medical educators over its long history. Finally, the Section's accredited fellowship program trains physicians for further specialization in dermatopathology.
Patient Care
The Dermatology faculty are committed to serving a large and diverse patient community, providing the highest levels of care in a wide range of dermatology specialties. Our outpatient clinic, located on the campus of the University of Chicago, routinely sees over 20,000 patient visits per year.  The faculty also provides dermatology consultations on inpatients admitted to all services at The University of Chicago Hospitals. In addition to the clinical dermatology practice, the Section maintains a busy dermatopathology laboratory, providing a full range of dermatopathology services to our patients and network of referring physicians. Recently the section enhanced its clinical services with development of new programs in laser treatment. Several faculty are board-certified in multiple specialties, including dermatopathology, anatomic pathology, dermatologic immunology and pediatrics.